Presents
CH Toatahi Outrageous Fortune BScl 1
Sire: Eng & NZ CH PHILIPP AUS DER NEUEN HAUFFSTRAssE
Dam: ABYGAL VON ADELFRIED
Whelped: 2-6-2009
hips :7-2 elbows : 0-0.5
"Delta"
NOTE: Place curser on video for tool bar at bottom of picture for sound and enlargement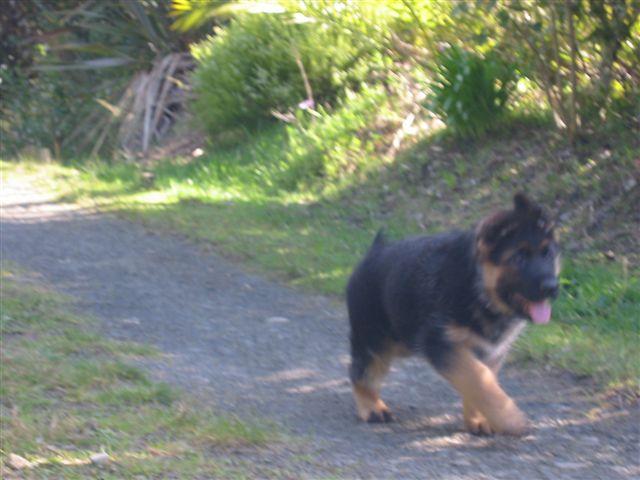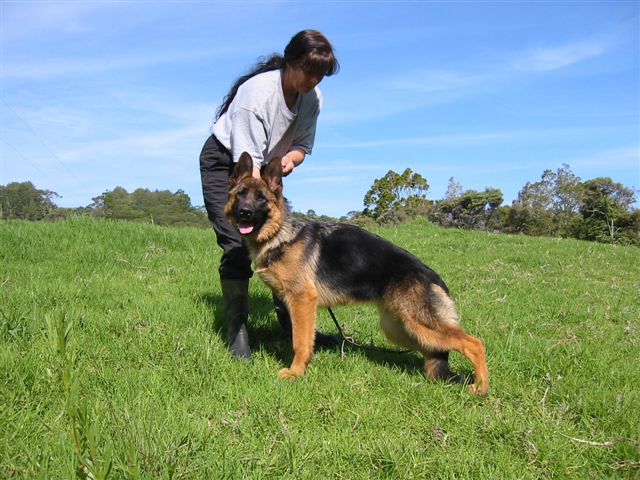 Toatahi Outrageous Fortune
8th New Zealand German Shepherd National Kristoph Ludwig SV Germany
Junior Bitch 1st VGS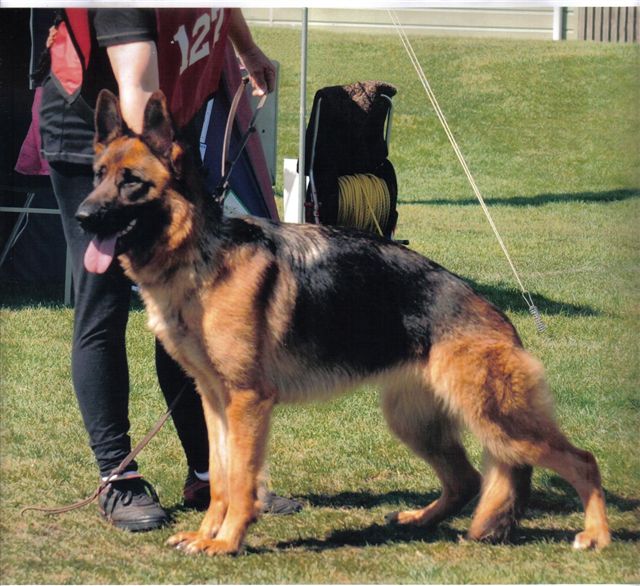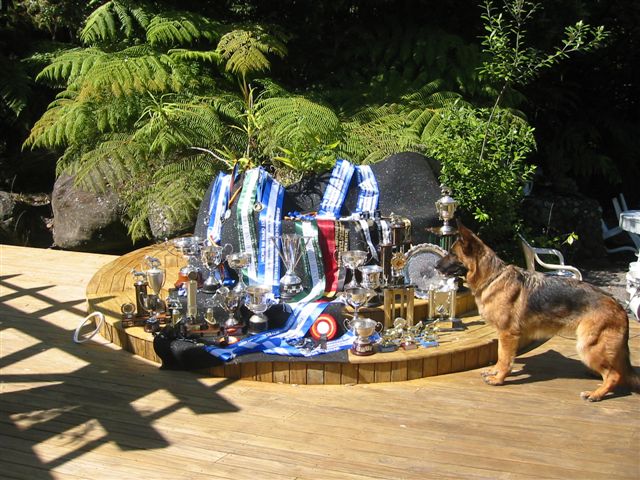 Achievements:
Delta has far surpassed our wildest expectations, and has a love of running, with natural fluid movement even at play.
Delta has continued to impress as an open class competitor in the Specialist German Shepherd show ring.
Having acheived Multi Gold Medal Winning status and Multi Excellent Graded under International Specialist SV Judges ,
also gaining Champion Status and passing Breed Survey with a class one pass.
PLACINGS
BABY PUPPY: 1st x 3
2nd x 1
In Show x 2
PUPPY: 1st x 4
In Show x 4
Reserve Challenge x 1
JUNIOR: 1st 2010 New Zealand German Shepherd National Show
1st x 7
2nd x 3
3rd x 1
Junior In Show x 2
Challenge x 1
Reserve Challenge x 2
Very Good Select Graded x 6
Intermediate 1st x 2
2nd x 3
Best Bitch x 1
Challenge x 1
Reserve Challenge x 1
Intermediate In Show x 2
Open ** Grand Victrix Gold Medal Winner 2013 GSD National **
1st x 5
2nd x2
3rd x 1
5th x 1
Challenge x 5
Reserve Challenge x 3
Open In Show x 4
Best In Show x 5
Pedigree

Parents
GrandParents
GreatGrandParents

SIRE

Eng &NZ CH

NZ Grand Victor 2008

Philipp aus der neuen Hauffstrasse

SchH1 KKl. 1(for life) 'a'-n Elbows-n(Imp-Ger) NZBSCL 1

German Seiger 2004-05

VA1* Larus Von Batu

SchH3 KKl.1 'a'-fn

German Seiger 2001-02

VA1* Yasko vom Farbenspiel

SchH3 KKl1'a'-n

V* Jitta Von Batu

SchH1 KKl 1 'a'-fn

V*Joy aus der neuen Hauffstrabe

SchH3 KKl1 'a'-n

Swiss Res. SeigerVA2*(Sw)

V14* Valium von Arminius

SchH3 KKl 1 'a'-n

V* Winnie von der Grenzmark SchH1 KKl 1'a'-fn

DAM

Abygal Von Adelfried

Aust Seiger

Troy Von Der Noriswand(Imp-Ger)

Hinnerk vom Kiemoor

Sch H2(Gmy)

Jenny vom Falltor

SchH1(Gmy)

Wily Vom Eigerwand

Spellbinda Ali Baba(Imp-Aust)

Deringolsta Qute Choice