Presents
Toatahi High Voltage
"Sieger"
Sire: Nadal of Amor
Dam: Abygal Von Adelfried
Whelped: 12-5-2010
Hips: 7-6 Elbows: 0-0
NOTE: Place cursur on video for tool bar at bottom of picture for sound and enlargement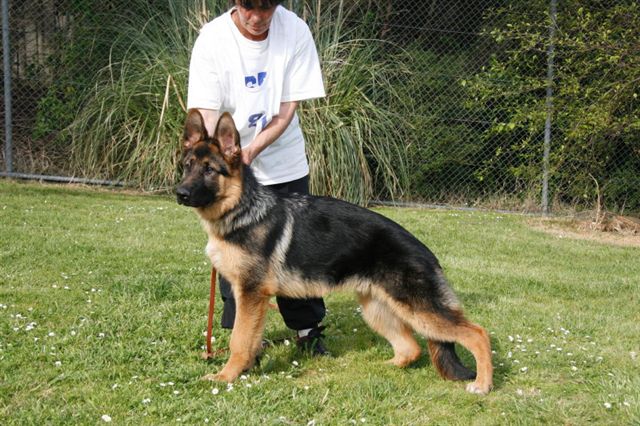 TOATAHI HIGH VOLTAGE age 5 months
Sieger: Head Shot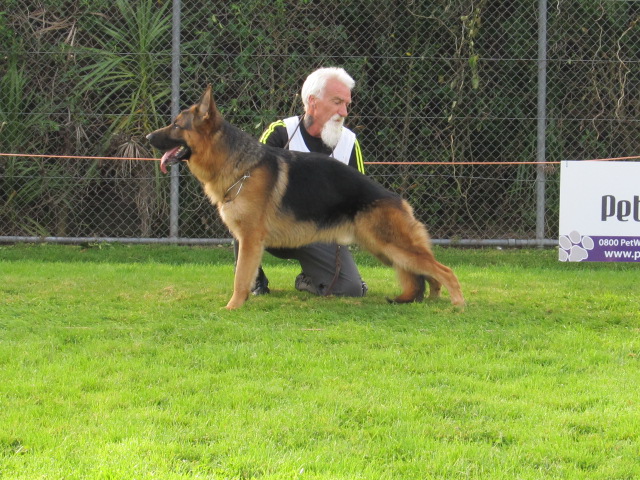 Sieger is a big smooch and likes nothing better than rolling in Dads lap if he sits on the ground.
Sieger has exceptional character and his temperament is excellent, He is a pleasure to have in our Family.
Sieger is consistently placed in the show ring where his expansive free flowing movement is his greatest asset and he gained a high placing of 2nd New Zealand Bred Dog with a grading of Excellent at the 2013 German Shepherd National under a German Judge Rainer Mast.
Achievements:
Sieger is Multi Excellent Graded under International Specialist SV Judges
Baby Puppy
4th x 2
3rd x1
8th NZGSD National 4th
Puppy
2nd x 1
3rd x 3
4th x 2
Puppy Ribbon
1st x 1
Reserve Dog
Best mover under 12 months
Junior
Very Good Select Graded x 2
2nd x 2
3rd x 1
Intermediate
4th x 1
New Zealand Bred
**2013 GSD National 2nd N.Z. Bred Dog -Graded Excellent**
2nd x 4
3rd x 2
4th x 1
3rd x 2
Pedigree

Parents
Grand Parents
Great Grand Parents
SIRE

Nadal of Amor

H4-3 E0-0

Gayville's Riccardo(Imp-UK)

NZVA H 5-4 E0-0

2X German Sieger

Larus Von Batu

Eng CH Gayville's Italia Sch1 Kkl1

BVA H3-3 E0-0

Oakway News Flash

CH Oakway Grand Slam
Oakway Hole Hearted

DAM

Abygal Von Adelfried

NZVA H 5-3 E 0-0

Aust Sieger

Troy Von Der Noriswand(Imp-Gmy)

Hinnerk Vom Kiemoor Sch Hll (Gmy)
Jenny Vom Falltor SCH Hl(Gmy)
Wily Vom Eigerwand
Spellbinda Ali Baba(Imp-Aust)
Deringolsta Qute Choice